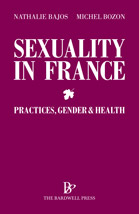 Sexuality in France: Gender Practices and Health
Edited by Nathalie Bajos & Michel Bozon
Research coordinated by Nathalie Beltzer
28 September 2012, hardback, 590 pp.
ISBN: 978-1-905622-28-3
GEMAS Studies in Social Analysis
With the support of INSERM, INED and the ANRS


NO LONGER AVAILABLE
If you would like to recommend this title to your library please download a library recommendation form here
This book presents the most recent and comprehensive scientific study of the sexual behaviour and attitudes of the French. Published for the first time in English, the work is based on a major research survey conducted in 2006–7 with 12,000 participants, and supported by the main social research and health agencies in France. The results of the study are described in full and analysed according to the key issues concerning variations in sexual behaviour and attitudes and their consequences for the sexual health of the French population.
The book provides detailed information on and analysis of the changing practices in sexual relations for all sections of French society. It offers an authoritative account of age and gender differences that influence sexual behaviour and attitudes, and a comprehensive discussion of issues relating to heterosexual and homosexual practices, sexual dysfunction, and the dichotomy between emotions and sexual urges in the representation of sexuality.

The findings of this important study paint a fascinating picture of the evolution of attitudes, behaviours, sexual practices and health issues in contemporary France. A major contribution to knowledge about sexual attitudes and behaviour, the work provides important information of concern to social scientists, health professionals and social workers alike, and to all those interested in a better understanding of contemporary sexual life.
Contents

List of Tables and Figures
Preface - Maurice Godelier
Acknowledgements
The Authors

1. Introduction: The �Context of Sexuality in France� Survey � Multidisciplinary Research into Sexuality, Gender and Health - Nathalie Bajos and Michel Bozon

PART I: SURVEY DESIGN

2. Methodological Issues and Data Collection - Nathalie Bajos, Nathalie Beltzer and Michel Bozon
3. Survey Sampling Strategy and Weighting - Laurent Toulemon and Nicolas Razafindratsima
4. A General Population Survey of Chlamydia Trachomatis Infection - V�ronique Goulet and Josiane Warszawski
5. Data Quality: Composition of the Sample and Conduct of Interviews - Nicolas Razafindratsima
6. The Place and the Experience of the Interviewer in a Sensitive Survey - Sharman Levinson

PART II: AFFECTIVE AND SEXUAL BIOGRAPHIES

7. First Intercourse and First Relationship: Long Anticipated Transitions - Michel Bozon
8. Young People Who Have Not Yet Had Sexual Intercourse: Social Norms and Lack of Opportunity - Armelle Andro
9. Between First Intercourse and First Union: The Early Trajectories of Men and Women Are Still Different - Laurent Toulemon
10. Separations and Their Consequences: Sexual Encounters and Disease Prevention After Conjugal Separation and Romantic Break-up - Nathalie Beltzer and Michel Bozon

PART III: SEXUAL RELATIONS, PARTNERS AND PRACTICES

11. Number of Partners: Some Convergence Between Women and Men, but Continuing Wide Differences in Behaviour - Henri Leridon
12. Homo-/Bisexuality: Token Acceptance and Social and Protective Vulnerabilities - Nathalie Bajos and Nathalie Beltzer with the collaboration of Agn�s Prudhomme
13. Sexual Encounters and Sexual Practices: A Widening Repertoire - Michel Bozon
14. Non-penetrative Sex: Practices That Are Often Overlooked - Armelle Andro and Nathalie Bajos
15. Frequency and Modalities of Intercourse: Contrasting Situations Depending on the Type of Partner - Henri Leridon
16. Absence of Sexual Activity: Singularities of a Heterogenous Population - Charlotte le Van, Mich�le Ferrand and Sharman Levinson

PART IV: SEXUALITY AND POWER RELATIONS

17. Concord and Discord: Desire and Its Variations - Michele Ferrand, Nathalie Bajos and Armelle Andro with the collaboration of Agn�s Prudhomme
18. Sexual Violence in France: Resignation, Reproof and Revolt - Nathalie Bajos and Michel Bozon with the collaboration of Agn�s Prudhomme

PART V: SEXUALITY, LIFE CIRCUMSTANCES AND HEALTH

19. Sexuality, Gender and Life Circumstances - Nathalie Beltzer, Nathalie Bajos and Anne Laporte
20. Contraceptive and Preventive Behaviour: Issues in Negotiation at Different Stages of Affective and Sexual Trajectories - Nathalie Beltzer and Nathalie Bajos
21. Sexually Transmitted Infections: Inequalities in Access to Screening - Josiane Warszawski and V�ronique Goulet
22. Difficulties with Sexual Function: Contexts, Determinants and Meanings Sharman Levinson
23. Sexuality and Chronic Disease - Anne Laporte and Nathalie Beltzer

PART VI: MEANINGS AND REPRESENTATIONS

24. Attitudes Towards Sexuality and the Life Course: Diversification and Reconstitution - Michel Bozon and Charlotte le Van
25. Sexuality and the Challenge of Equality - Nathalie Bajos, Mich�le Ferrand and Armelle Andro

PART VII: SYNTHESIS

26. Sexuality, Gender and Health: The Contributions of the �Context of Sexuality in France� Survey - Nathalie Bajos and Michel Bozon