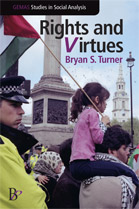 Rights and Virtues
Political Essays on Citizenship and Social Justice
By Bryan S. Turner

January 2011, paperback, 312 pp.
ISBN: 978-1-905622-38-2
Hardback also available. To purchase the hardback edition click here.
£29.99

Europe (what's this?)


Bryan Turner's writing on citizenship and human rights has placed him at the forefront of sociological research in this area. Over the last three decades his essays and other contributions have led to a fundamental reconsideration of the debate about individual and social rights in social theory. His work compares in its breath and scope with that of his classical forebears, Weber and Durkheim. It offers a contemporary pertinence to questions that go to the heart of the matter, and grasps the fundamental problematics of citizenship and human rights in a globalised and post-Cold War world.

The subjects covered in this major new work include the debate about modern citizenship inspired by T.H. Marshall, the globalisation of human rights, national sovereignty, the relationship between religion and conceptions of rights, participation and exclusion, and the concept of social virtue.


"Bryan Turner's book is a thoughtful discussion of the distinction and interplay between the individual rights of men and the social rights of citizens in a world where globalisation limits the centrality of the nation-state. It is based on his close familiarity with classical and modern social sciences, and outlines his important anti-relativistic theory that sees rights as grounded in the last instance on the frailty of men and institutions."
--Raymond Boudon, Académie des Sciences Morales et Politiques, Paris

"Throughout his writings ranging from the early work on citizenship to the latest on vulnerability, there is a commitment to social justice understood in a very simple but profound sense: it is a collective responsibility to care for those who are in need. [...] the scope, breadth and depth of this body of work is outstanding."
--From the "Foreword" by Engin F. Isin, The Open University

"An important book, the definitive study of human rights and citizenship in our new, global world. These beautifully written essays trace our vulnerability and its bearing on human rights and citizenship. The colours and sounds of bloody conflicts, its heroes and victims, landscapes and pains, upheavals and disappointments, all weaved together by a masterful hand into a fascinating and tragic web, read with immense admiration and arrested breath."
--Natan Sznaider , The Academic College of Tel-Aviv-Yaffo


Contents:

Acknowledgements
Foreword
Introduction: On Individual and Social Rights

CHAPTER 1: Outline of a Theory of Citizenship
CHAPTER 2: The Erosion of Citizenship: Participation and Exclusion in Modern Societies
CHAPTER 3: Outline of a Theory of Human Rights
CHAPTER 4: Global Sociology and the Nature of Rights
CHAPTER 5: Forgetfulness and Frailty: Otherness and Rights in Contemporary Social Theory
CHAPTER 6: The Globalisation of Human Rights: Violence, New Wars and Failed States
CHAPTER 7: Sovereignty and Emergency: Political Theology, Islam and American Conservatism
CHAPTER 8: Capitalism and the Civil Sphere
CHAPTER 9: Volunteering as Virtue
CHAPTER 10: Classical Sociology and Cosmopolitanism: A Critical Defence of the Social
CHAPTER 11: Cosmopolitan Virtue, Globalisation and Patriotism
CHAPTER 12: The Enclave Society: The Social Limits to Cosmopolitanism

Bibliography
Index

About the Author:

Bryan S. Turner is Presidential Professor, Ph.D. Program in Sociology at the City University of New York. He edited the Cambridge Dictionary of Sociology (2006) and published Vulnerability and Human Rights for Penn State University Press (2006). He is a research associate of GEMASS (Groupe d'Etude des Méthodes de l'Analyse Sociologique de la Sorbonne), Paris. He is also the Director of the Centre for the Study of Contemporary Muslim Societies, University of Western Sydney.