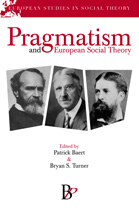 Pragmatism and European Social Theory
Edited by Patrick Baert and Bryan S. Turner

May 2007, £60.00, hardback, 192 pp.
ISBN-13: 978-1-905622-00-9
Europan Studies in Social Theory
Series Editors: Bryan S. Turner and Peter Hamilton
NO LONGER AVAILABLE
Pragmatism is the golden thread running through American social thought and is often seen as the quintessential philosophical tradition of American liberal democracy. Whereas pragmatism was committed to clarity and simplicity of its ideas, European social theory has been seen by its critics as deliberately vague, abstract and obscure.

The essays collected in Pragmatism and European Social Theory question many of these assumptions by showing how pragmatism influenced both classical and modern social theory. It contains contributions from Jack Barbalet, Patrick Baert, Thora Margareta Bertilsson, Larry Ray, Matthew Festenstein, Véronique Mottier and Bryan S. Turner.

Pragmatism and European Social Theory is an indispensable text for understanding the history of social theory on both sides of the Atlantic, but it is also a volume that grapples with difficult issues facing American and European societies in the aftermath of 9/11.
Since its early condemnation by Durkheim as a dangerous 'attack on reason,' the philosophy of pragmatism has won more resistance than recognition from European theorists, their critique partly fueled by misinterpreting this American-born philosophy through stereotypes of American culture as narrowly mercenary, instrumentalist, and philistine. With the resurgence of pragmatism in Anglo-American philosophy, there is growing recognition of its valuable impact on European thought, especially with respect to social and political theory. Pragmatism and European Social Theory provides a very helpful contribution to exploring this influence and furthering an important dialogue.
—Richard Shusterman, Dorothy F. Schmidt Eminent Scholar Chair in the Humanities and Professor of Philosophy Florida Atlantic University
Pragmatism is the paradigmatic social theory of knowledge, but the 'social' has typically been ignored by philosophers. This collection explores many of the dimensions of the social in pragmatism, with a salutary emphasis on Peirce, James and Rorty. By doing so it returns pragmatism to its original status as a disturbing challenge: difficult to assimilate, difficult to accept.
—Stephen P. Turner University of South Florida
Contents:
List of Contributors
Acknowledgement
Introduction by Patrick Baert & Bryan S. Turner
Classical Pragmatism, Classical Sociology: William James, Religion and Emotions by Jack Barbalet
Why Study the Social? by Patrick Baert
Pragmatism Rediscovered: The Relevance of Peirce for Social Science by Thora Margareta Bertilsson
American Pragmatism, Neo-pragmatism, and Feminist Political Theory: A Failed Rendez-vous? by Véronique Mottier
Inquiry and Democracy in Contemporary Pragmatism by Matthew Festenstein
Habermas, Pragmatism and Truth by Larry Ray
Pragmatism, Democracy and Imperialism by Bryan S. Turner
Index