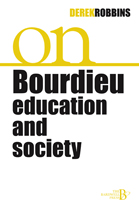 On Bourdieu, Education and Society
By Derek Robbins
with a preface by Bryan S. Turner

July 2006, hardback, 624pp
ISBN: 0-9548683-6-6
ISBN-13: 978-0-9548683-6-9
NO LONGER AVAILABLE
The Bardwell Press is pleased to announce publication of a major contribution to Bourdieu studies. Derek Robbins has long been one of the leading exponents of Pierre Bourdieu's theories in the fields of sociology and education. This collection is the fruit of his scholarship since the 1970s and is introduced by a detailed intellectual biography written specially for this volume in which he contextualises socially and historically his response to Bourdieu's work and his efforts to deploy and extend it practically and intellectually.
On Bourdieu, Education and Society is a collection of 25 influential articles by Derek Robbins, one of Britain's leading scholars on the French sociologist. In the first part of the book Robbins's autobiographical introduction describes and contextualizes each of his essays in terms of his own social and political experiences. The articles, written over three decades, explore the meaning of Bourdieu's work, assess the significance of his epistemology of the social sciences and views on the trans-national transfer of social science concepts, and apply Bourdieu's thinking to educational or socio-cultural issues and debates. An innovative and scholarly study of Pierre Bourdieu, the book uses his theories to pose cross-cultural questions about their relevance to the analysis of English education and society.
The product of a personal as well as an intellectual engagement with Bourdieu's work, Derek Robbins's On Bourdieu, Education and Society illuminates Bourdieu's social and philosophical trajectories in ways that no other writer in English can match. He also makes Bourdieu speak to his own telling and passionate accounts of the relations between class and education in Britain.
A commanding body of work.
—Professor Tony Bennett, Open University
On Bourdieu, Education and Society a detailed and precise account of Bourdieu's academic reception in Britain and the evolution of Robbins's absorption of Bourdieu's sociology into his own work in the field of education. It is a sympathetic, indeed passionate, account of what it means to think your own thoughts through the thoughts of others.
—Professor Bryan S. Turner, University of Singapore
On Bourdieu, Education and Society is a very unusual and exciting book. Derek Robbins gives a well-informed and comprehensive introduction to the life work of Pierre Bourdieu, clear and vivid in its argumentation. What makes this introduction so singular is that Robbins realizes a central principle of Bourdieu's reflexive sociology: He leads the reader through Bourdieu's thinking by reconstructing the historical and intellectual context of its genesis and development. Asking if sociological constructs and theories are transferable into other national contexts, Robbins goes even further by giving also a sociogenetic analysis of Bourdieu's reception—mainly, but not exclusively—in Britain. For the reader outside Britain, this book is at the same time a rich and careful work on Bourdieu's thinking and an illuminating introduction into British higher education over the past decades - and also into British social science. Most amazingly, the complex architecture of Robbins' book on Bourdieu, education and society makes it more easily comprehensible, and also more stimulating, than a "pure" exegesis of Bourdieu's work: The embedding in the historical and intellectual context gives the reader the clues for a thorough understanding of both Bourdieu's reflexive sociology and the author's deployment of this sociology.
—Professor Dr. Beate Krais, Technische Universität, Darmstadt
Derek Robbins is Professor of International Social Theory at the University of East London, where he also is Director of the Group for the Study of International Social Science in the School of Social Sciences, Media and Cultural Studies. He is the author of "The Work of Pierre Bourdieu" (1991) and of "Bourdieu and Culture" (2000); the editor of the four-volume collection of articles on Bourdieu in the Sage Masters of Contemporary Social Thought series (2000); as well as author of many articles on Bourdieu's work. He is the editor of the three-volume collection of articles on Lyotard (2004) and of a second four-volume collection of articles on Bourdieu (2005), both in the same series. He is currently writing "The Internationalization of French Social Thought, 1950-2000" to be published by Sage in 2007.
To purchase please download order form, complete and return along with payment to
The Bardwell Press.