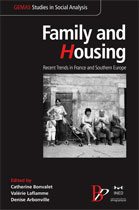 Family and Housing
Recent Trends in France and Southern Europe

Edited by Catherine Bonvalet, Valérie Laflamme, Denise Arbonville
Foreword by Yves Grafmeyer Translated by Zoé Andreyev

16 March 2009, 344pp, 234 x 156mm
Hardback, £70.00, ISBN 978-1-905622-19-1
GEMASS Studies in Social Analysis
Series Editors:
Mohamed Cherkaoui, Peter Hamilton & Bryan S. Turner
Published in association with the Institut National d'Etudes Démographiques (INED)
NO LONGER AVAILABLE

This important new comparative research study of housing and family is distinctive because it takes France and southern Europe as its focus.
France is conventionally compared with northern European societies because of similarities in economic and industrial development, the role of the state, and demographic characteristics. This ignores cultural and social similarities between France and the societies of southern Europe, united
by shared Latin heritage, recent urbanisation, attachment to the rural world and values of family solidarity.
The authors of this groundbreaking study of family and housing patterns in France compared with Greece, Italy, Portugal, Spain and Romania offer novel insights into key social and population changes of the last century. Central questions include the "nuclearisation" of family models; the production of society-specific patterns of housing such as in France; and the potential convergence
of residential patterns.
New modes of familial behaviour are appearing in France and southern Europe, changing the demand for housing, but developments in the residential market are also influencing how families create strategies to manage their use of the homes in which they live.

Contents:
About the Contributors
Preface - Yves Grafmeyer
General Introduction
CHAPTER 1 - The Demographic Situation in France and in Countries of Southern Europe
Juan Antonio Fernández Cordón

CHAPTER 2 - Evaluating the Impact of Socio-demographic Trends on Habitat in Europe
Denise Arbonville

CHAPTER 3 - Household Dynamics and Residential Behaviour in Spain
Juan Antonio Fernández Cordón and Jesus Leal

CHAPTER 4 - Families and Housing in Portugal
Isabel Guerra

CHAPTER 5 - Population, Households and Housing in Italy
Marco Bottai

CHAPTER 6 - Population and Housing Trends in Greece
Aghis Anastassiadis and Kyriaki Tsoukala

CHAPTER 7 - Demographic Trends and Urban Changes in Romania
Ana R. Brezeanu Staiculescu

CHAPTER 8 - Demographic Trends and Urban Change in France:
Changes in Housing Patterns Since 1950
Denise Arbonville and Catherine Bonvalet
General Conclusion
Index
About the Contributors:

Aghis Anastassiadis is an architect and urban planner and professor at the School of Architecture in the University of Thessaloniki, Greece. His research is concerned with urban planning, risk-management and the mathematical-statistical analysis of urban and demographic models.

Denise Arbonville is a demographer who worked for several years at INED. Her research has covered the relationships between demographic change and modes of living, and marginal forms of housing in France.

Catherine Bonvalet is a social demographer and a director of research at INED. Her area of specialist research is the family and housing, and the residential and inheritance strategies used by households.

Marco Bottai is a demographer and professor of statistics at the University of Pisa, Italy. His main areas of research involve the study of internal migration of populations, and daily travel patterns, as well as the life-cycles of households and their residential biographies.

Ana Rodica Brezeanu Staiculescu is a sociologist and demographer at the University of Paris I Panthéon Sorbonne, and Professor at the University Ovidius in Constanta, Romania. Her research work covers generations and life-cycles, migration, occupational mobility and the family.

Juan Antonio Fernández Cordón is Investigador at the Centro de Ciencias Humanas y Sociales, Consejo Superior de Investigaciones Cientificas in Madrid. His research projects are concerned with fertility and the family, and demographic forecasting.

Yves Grafmeyer is a professor at the University Lumière Lyon 2, chair of the research group on the social economy of habitat, and an expert on urban sociology. His research work has been mainly concerned with socio--spatial trajectories, the re-organisation of space in urban settings, and the social uses of housing, community and city.

Isabel Guerra is an urban sociologist and professor at the Instituto Superior de Ciências do Trabalho e Empresa (ISCTE) in Lisbon, Portugal. Her research work has covered studies of the city, housing, regional planning and urban lifestyles.

Valérie Laflamme is a demographer and a research lecturer at the Université des Sciences et Technologies, Lille; researcher at the Centre Lillois d'Études et de Recherches Sociologiques et Économiques, and a research associate at Institut National d'Études Démographiques. Her research has been concerned with the history of housing and minority housing in France and Canada.

Jesus Leal is professor of urban sociology and director of the sociology department at the Universidad Complutense in Madrid, Spain. His research work is focused on the social structure of cities, housing and the residential practices of households.

Kyriaki Tsoukala is an architect, social psychologist and professor at the School of Architecture in the Aristotle University of Thessaloniki, Greece. She specialises in issues relating to the individual and space, and the social-psychological aspects of architectural and urban space.