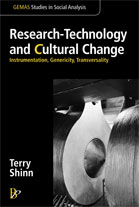 Research-Technology and Cultural Change
Instrumentation, Genericity, Transversality
By Terry Shinn

March 2008, hardback, 216 pp.
ISBN-13: 978-1-905622-06-1

Gemas Studies in Social Analysis
Series Editors: Mohamed Cherkaoui, Peter Hamilton & Bryan S. Turner
NO LONGER AVAILABLE

This book outlines a new perspective on the history and sociology of science that places the devices and instruments of scientific measurement, and the people who design and develop them, at the centre of study. Terry Shinn identifies a hitherto unexplored domain of scientific development that he calls research-technology, and demonstrates its centrality for understanding scientific change and development.

Through case studies of electromagnetism, the German and American scientific instrument makers, computer programming and simulation, and spectroscopy, Terry Shinn makes a strong argument for the transversality of instrumentation in the face of scientific specialisation and fragmentation. He shows how established scientific boundaries are often broken down by instrumental technologies, and how the development of science often proceeds via innovation and genericity in instrument design.

"Shinn has found in research-technology a vehicle for the cooptation of the post-modern into a defence of the moderns … a vindication of the modern values of universality, objectivity and truth."
—From the Foreword by Paul Forman, National Museum of American History, Smithsonian Institution

Contents:

Foreword

CHAPTER 1 - Sources of Intellectual and Social Change: A Fresh Perspective (Download pdf)
CHAPTER 2 - The Research-technology Matrix: German Origins, 1860–1900
CHAPTER 3 - Strange Cooperations: The U.S. Research­technology Perspective, 1900–1955
CHAPTER 4 - The Bellevue Grand Électroaimant, 1900–1940: Birth of a Research-technology Field
CHAPTER 5 - Fourier Transform Spectroscopy
CHAPTER 6 - When is Simulation a Research Technology? Practices, Markets, and Lingua Franca
CHAPTER 7 - Research­technology in Historical Perspective: An Attempt at Reconstruction

Bibliography
Index
About the Author:

Terry Shinn is a Senior Research Director at the Centre National de la Recherche Scientifique, based at the Maison des Sciences de l'Homme in Paris and a member of Gemas. He also teaches at the doctoral level at the Sorbonne and the Ecole des Hautes Etudes en Sciences Sociales. He specialises in the history and sociology of science and technology.

In addition to his current investigation of research-technology, Terry Shinn has undertaken research on the history and sociology of scientific and technical education, the growth of industrial research and industry–university interactions in the 19th and 20th centuries. His current research includes the exploration of the origins and evolution of nanoscience and nanotechnology.

Shinn's recent publications include: Simulation: Pragmatic Construction of Reality, with J. Kueppers and J. Lehnard (eds.), 2006; Controverse sur la science: pour une sociologie transversaliste des activités scientifiques, with P. Ragouet, 2005 and Instrumentation Between Science, State and Industry, with B. Joerges (eds), 2001.