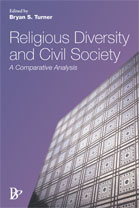 Religious Diversity and Civil Society
A Comparative Analysis
Edited by Bryan S. Turner

January 2008, hardback, 208 pp.
ISBN-13: 978-1-905622-11-5
This collection of essays by leading scholars focuses on two controversial propositions central to the contemporary issues faced by multi-religious societies. Firstly, societies that are culturally and ethnically diverse can be more difficult to govern than those that are homogenous. Secondly globalization, particularly of religion, makes these problems increasingly endemic, global and potentially catastrophic. As a result there is tension between the transnational identities of the world religions and the national identities of secular citizenship. Modern religious diversity is now a profound political and cultural issue, because of a lack of robust social policies and institutions to manage the social tensions that flow from increasing cultural complexity. Many conventional liberal solutions appear to be in crisis. The societies examined in this book, such as Singapore, Indonesia, Malaysia, Australia, Canada, and Great Britain, suggest some common problems and policy solutions that may help in creating a more stable and lawful social order.
"A truly international enterprise, incorporating the perspectives of an international cast of authors whose essays are of a consistently high quality. It provides an admirable balance of theoretical considerations and "on the ground" examples. A must read for all interested in civil society."
- Ronald Lukens-Bull, University of North Florida (author of A Peaceful Jihad )
"This is a timely book of essays by some of the world's leading experts on religious diversity in a range of countries and regions. Edited by Professor Bryan Turner, who in his new location in Singapore has done much to encourage the comparative study of religions and cultures, it will be a valuable source book." - John Rex, Emeritus Professor of Sociology, University of Warwick


Bryan S. Turner is professor of sociology in the Asia Research Institute, National University of Singapore. He is the research leader of the cluster on globalization and religion, and is currently writing a study of the sociology of religion for Cambridge University Press. He edited the Cambridge Dictionary of Sociology (2006) and published Vulnerability and Human Rights for Penn State University Press (2006). Professor Turner is a research associate of Gemas (Centre National de la Recherche Scientifique, Paris), an honorary professor of Deakin University, and an adjunct professor of Murdoch University Australia. He is with John O'Neill the founding editor of the Journal of Classical Sociology.

Contents:

Acknowledgements
List of Contributors

Foreword
Mohd Alami Musa

Introduction
Bryan S. Turner

1. The Challenge of Religious Revitalization and Religious Diversity
to Social Cohesion in Secular Societies
Gary D. Bouma

2. Citizenship and Its Discontents: Public Religion, Civic Identities
Amyn B. Sajoo

3. Religious Diversity and the Liberal Consensus
Bryan S. Turner

4. Wall of Division or Public Square?
Li-ann Thio

5. State, Religion, and the Dynamics of Transition: Repertoire of
Violence in Post-Suharto Indonesia
Noorhaidi Hasan

6. British Muslims and the British State
Gabriele Marranci

7. Education and Social Cohesion in Malaysia and Indonesia
Julie Chernov Hwang

8. The Poetics of Religious Philanthropy: Buddhist Welfarism in Singapore
Kuah-Pearce Khun Eng

Index