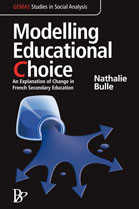 Modelling Educational Choice
An Explanation of Change in French Secondary Education

By Nathalie Bulle
Foreword by Raymond Boudon

July 2010, 154pp, 234 x 156mm
Hardback, £50.00, ISBN 978-1-905622-36-8
Gemas Studies in Social Analysis
Series Editors:
Mohamed Cherkaoui, Peter Hamilton & Bryan S. Turner
NO LONGER AVAILABLE

In this rigorous study of French secondary education during the 20th century, Nathalie Bulle provides a simulation of how pupils and their families chose amongst the streams of study available to them. The model she develops is meticulously constructed and supported by a range of decision-making models, and explains the development of values about intellectual education in France. Her research supports the thesis of the relative autonomy of the educational system in relation to other sub-systems of society, and is a major contribution to the sociology of education. She also examines and provides clarification of some key epistemological questions posed by the use of formal models to explain social phenomena.

Contents:
Foreword - Raymond Boudon
Introduction

CHAPTER 1
Changes in the Secondary Education System: 1902-1965

CHAPTER 2
Some Elements of Modelling Educational Choice

CHAPTER 3
Simulation of Choice of Stream of Study

CHAPTER 4
Formal Thought and the Real World

Conclusion
Bibliography
Index


About the Author:

Nathalie Bulle is a researcher in the CNRS research group, GEMASS. She is the author of La rationalité des décisions scolaires. Analyse comparée de l'évolution des systèmes d'enseignement secondaire français et américain au cours du XXe siècle (PUF 1999), Sociologie et éducation (PUF 2000, trans. Sociology and Education. Issues in Sociology of Education (Peter Lang 2008), Ecole et Société (Co-editor with Raymond Boudon and Mohamed Cherkaoui, PUF 2001), L'école et son double. Essai sur l'évolution pédagogique en France (Hermann, 2009, 2nd edition 2010).